The Best Garage Door Installation Company in Boca Raton, Florida
Garage Door Sharks provides reliable and affordable garage door installation and repair services in Boca Raton, Palm Beach County FL. Call us now!
Quality Garage Door Installation Services Palm Beach County, FL
We offer the best deals on garage door installations in Boca Raton, Palm Beach County, Florida. Our garage door repairs services are available 24/7 for you.
When looking for the best garage door installations company in Boca Raton, look no further than Garage Door Sharks. We have a team of professional who are certified / experienced to provide our customers with the best quality product and services. Whether you need a new garage door or your existing door needs repairs, we can help.
We also offers a variety of services, including garage door opener installation repair, garage door spring repair, and more. Contact us today to schedule a free consultation.
Our technicians are trained professionals, and we use high-quality parts and materials. They can repair almost anything, including broken springs, rollers, cables, tracks, openers, sensors, etc. We can also install new garage doors, gates, and automatic openers. Contact our team today and see why we are the best garage door company.
Reliable and affordable garage doors solutions for homeowners and businesses
Garage doors are one of the most important parts of your homes. They protect your car, provide easy access, keep out rain and snow. But what happens when something goes wrong? If your garage doors is not working properly, it can cause serious damages to your home and property. Call us today if you do not know how to fixs it yourself. We are here for you.

We offer a variety of garage door solutions, including residential garage doors, commercial garage doors, automatic garage doors, and roll-up garage doors. With us, you'll find everything you need for reliable and affordable garage door repair and maintenance. And we guarantee our craftsmanship.

Our team will be happy to help you choose a garage door that fits your budget and lifestyle. We have what you need, whether you want a simple roll-up garage door or a high-tech automated system. Call us now to schedule an appointment or to learn more about our products and services.
Palm Beach County Services
Garage Door Repair
Garage Door Installation
Garage Door Sale & Service
Fast And Friendly Repair Specialists
Residential Repairs
Commercial Repairs
Quality And Reliable Services
Local garage door Repair Company
We are the trusted garage door repair company in Palm Beach County, Florida. Our work is guaranteed.
No garage door repairs are too small or complicated for us!
Experienced and quality work from Garage Door Sharks
If you are looking for a quality garage doors company with experience, you have come to the right place. We provides professionals installation & maintenance services for residential and commercial client. Our technician are expert at providing solutions for our customer. From emergencies to routine maintenances , we make sure everything runs smoothly.
Our team of expert provides homeowners with reliable, affordable efficient services. We pride ourselves on providing our customer with outstanding services and quality products. We know how important it is to keep your garage door systems clean & well maintained.
We install repair garage doors from a variety of manufacturers. These companies include Genie, Clopay, Liftmaster, Chamberlain, Craftsman, Wayne Dalton, Sears, Overhead Door Corporation, Amarr and others. You can count on our team to help you find the perfect solution to your garage door problem.
When you are shopping for a new garage door, you'll be spoiled for choice. You can opt for a brand new door or choose a replacement door for your old garage door. We offer several options to help you find the perfect door for your home.
24/7 Emergency Garage Door Service in Boca Raton, FL
We offer 24-hour emergency garage door repairs service in Boca Raton, FL. We are always ready to helps our customers. Whether it's a broken spring, a stuck opener, a stuck door, or a damaged cable, we are here to fix it fast. Our technicians are trained to fix any problem quickly and efficiently. Call us today for a free estimate.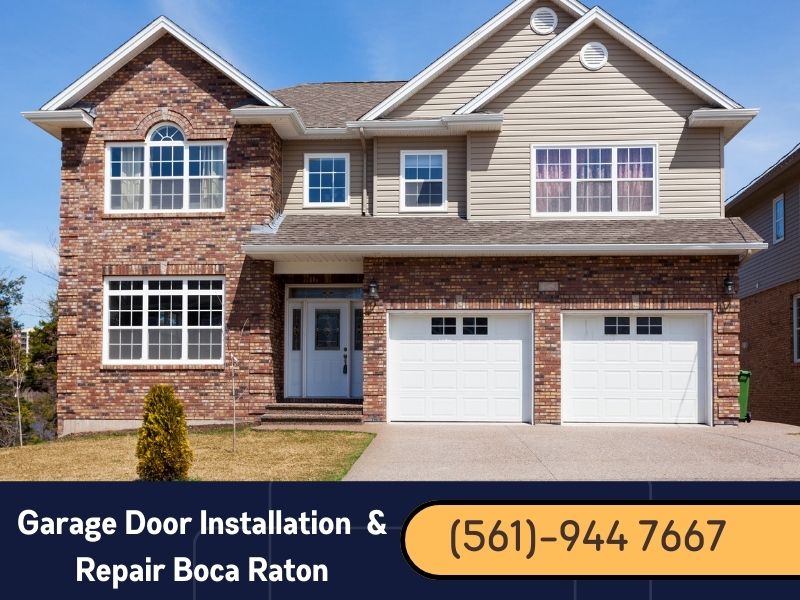 Your trusted local garage door company in South Florida
We pride ourselves on providing quality garage door service to our valued customers. We offers various garage door services, including installation, repair, & maintenance. We also offers a range of garage door product , such as garage door opener remote , keyless entry systems, & more.
We want to provide our customer with the best services , products. We also wants to make sure that their garage door need are met as quickly as possible. Contact us today to learn more about our service or to schedule a free consultations.
We are a trusted company dedicated to customer service.
We offer affordable solution for both commercial and residential properties.
We have a commitment to our customer that set us apart from the competitions.
We also offer cable repair, garage door openers and much more!
Garage door openers with an experienced team in South Florida
When you need a garage door opener in South Florida, you can rely on the experienced professionals at Garage Door Sharks. We have a wide selection of products, so you can find the perfect opener for your home or business. We are always available to help you install, maintain, and repair your system.
No matter your needs, we have the perfect garage door opener for you. We are always here to install, maintain and repair your system. Give us a call today or visit our website to learn more about our products and services!
Replace Or Repair Broken Springs
Spring are an important & vital parts of your garage door systems. They are an essentials parts of the safety systems. That is why it's important to have them checked regularly.
24/7 Garage Door Service
We offer 24/7 service for residential garage door repair, commercial garage doors and garage door opener remotes.​​
Fast Service
Mosts repairs & installations are performed same day in Boca Raton . We offers wide range of services for you with all types of garage doors
"I have used Garage Door Sharks and I am very satisfied with the services they provide. They are a reliable company that provides dependable services. "
"I have been having problems with my garage door lately. I called Garage Door Sharks. The service technician came within a few hours of calling and fixed my door right away! They were very professional and helpful.".
"They are a great company that I highly recommend to all my friends and family. Their work is excellent, they're very professional, and the service has always been on time. I am completely satisfied with their services!"
Garage Door Repairs and Services in Boca Raton
It can be very annoying when your garage door cause problems. Not only is it a nuisance, but it can also pose a safety hazards. If you are having problem with your garage doors , do not wait to get it fixed. Call the experts at Garage Door Sharks right away.
We are a leading providers of garage door repairs service in Boca Raton, FL. We have a lot of experience and are committed to providing our customers with the best possible service. We offer a wide range of services including:
Garage Door Installation
Replacement of Garage Doors
Garage Door Repair
Garage Door Opener Repair
Garage Door Spring Repair
No matter what problem you have with your garage door, we can help. We will get your garage door working again. Call us today for a free estimate.
Explore The Different Types of Garage Doors
There are many different type of garage door & garage door manufacturer. Some types are better suited for certain application, while other are more suitable for commercial uses. Here are just a few of the most popular type:
Steel – Steel garage door are the most commonly used doors today. There are several type of garage door. Roller doors, sectional doors, single doors, double doors & others. These doors are usually solid / durable. They are perfect for houses with limited space.
Wood gates – Wood garage doors are another option for homeowners who do not want to use steel. Wood is a beautiful material that looks great both inside and outside your home. Many different types of wood can be used to build wooden garage doors.
Aluminum – Aluminum garage doors are lightweight and affordable. Since aluminum has a lighter weight, you can save on energy costs. Therefore, aluminum garage doors are ideal for smaller spaces.
Glass – Garage doors made of glass are beautiful and modern. They are often custom made to fit the style of your home. Glass garage doors come in many different colors and sizes.
Installation, Maintenance And Replacement In Boca Raton
If you are looking for a company to take care of your garage doors in Boca Raton, look no further than Garage Door Sharks. We are a family owned & operated business with more than so many years of experience in the industry; you can rest assured that we know what we are doing. We also strive to provide our customers with the best service possible.
If you need a new garage door, we can help you choose the perfect door for your home or business. We take into account your budget, style preferences, and practical needs when making recommendations. We will install it quickly and efficiently, so you do not have to worry about a thing.
Our technicians are certified and trained to work with all types of garage doors. They are licensed and insured. We guarantee satisfaction. If you do not like what you see, we will fix it for FREE. Give us a call today!
Garage Door Torsion Spring Replacement
If your garage door is no longer working properly, it may be time to replace your torsion spring. Torsion springs provides the lifting powers for your garage door; over time, they can wear out or break. Replacing the springs is not difficult, but you must follow the instructions carefully to avoid injury.
You will need a few tools to replace the torsion springs, including a drill, socket set and winding rods. You will also need to purchase the replacement springs at a hardware store. Make sure you choose the right size and tension for your door.
Garage Door Spring
Springs are an essential part of your garage door; if they break, it can be a major problem. If you are having trouble with your garage door springs, companies like Garage Door Sharks can help. We have a team of experienced and certified technicians available 24/7 to repair your springs quickly and easily.

We offer many services including spring replacement, repairs, garage door remotes and adjustments. They also offer services like garage door opener repair, installation and garage door opener maintenance at affordable prices with industry experience.

We are a company that can help you with your garage door needs. We install new garage doors and repair old doors as well. We offer same day service, professional service and fast repairs so you can get on with your life.

Garage Door Sharks is a leading garage door company with multiple garage doors. We have all brands of garage doors including Custom Garage Doors, Ammar Garage Doors and Garage Door Installers. We have a lot of experience with these brands and can offer you a discount on your purchase.
We have decades of experience repairing installing garage doors openers.
Our technicians are trained to repair , install all garage doors and openers. So you can count on us to get the job done quickly and correctly.
We offer emergency service 24 hours a day, seven days a week. We know that sometimes things go wrong, and we want to be there for you with cost-effective solutions.
We provide around the clock garage door maintenance and replacement for homes and businesses in Pompano Beach, West Palm Beach, Palm Beach County, Broward County, Royal Palm Beach, Dade County, Lake Worth and the surrounding areas.